live from China::Hong Kong S.A.R. (中国::香港特別行政區)
2011-02-10, on 23:23 | In
in hong kong
|
5 Comments
|
Dieser Artikel in Deutsch
For those who haven't been to Hong Kong yet, this is a very unique way of local construction companies to build up some scaffolding made completely out of bamboo. Hong Kong is the only place I know where bamboo is almost exclusively used for this purpose. The first three pictures show a construction site in Wan Chai where The Oakhill is being built.
Please note that they scaffolded up to over 55 stories! The right photo below shows some other construction site on Bonham Road in Sai Yin Pun. Very close to where I lived before.
Besides bamboo scaffoldings Hong Kong is of course being flooded by "Cheap China Copies" of pretty much everything. That's nothing unsual – copy iPhones, MacBooks and so on. However, just a couple of days I passed by the 7eleven in Sheung Wan and saw the "CNG" magazine which stands for "Chinese National Geography". To be honest, I was thinking that is a "National Geographic". Here both
NatGeo Photo courtesy Gobonobo
2011-02-09, on 10:30 | In
work
|
7 Comments
|
Dieser Artikel in Deutsch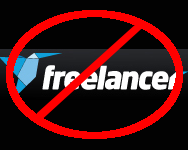 Yes, we use Freelancer.com for outsourcing projects. I purposely don't publish the link here. For over six years, we have had a good relation ship with them; though we barely interacted with the people behind Freelancer.com. For some reason, one payment to Freelancer.com did not work because PayPal messed something up. This resulted in our PayPal account to be locked down (which we easily re-activated) and our Freelancer.com account to be suspended as well. Freelancer.com still gets US$510 from us, but we can not pay them as our account is still suspended. Therefore, I took the chance to consult their online support – and I am not the first person who did that. This is what came out:
Myla: Hi there, how may I help you?

HR Department: Hello Myla
HR Department: Please review ticket YHV-383840
HR Department: We are still waiting on our account to be re-activated.
HR Department: Our PayPal account is back working and we would like to settle our debt with Freelancer.com now.

Myla: I will be more than happy to assist you.
Myla: Please give me a minute while I check this for you.

HR Department: I will be leaving for a congress soon and therefore, I will not have much time to take care of this the rest of this week. So it would really be great if we can get this resolved now.

Myla: Thank you for your patience. The ticket that you submitted have been forwarded to our Tier2 department. Unfortunately we will not be able to view the updates or status of this ticket from our end. Kindly wait for the reply from that department for the resolution of this issue. We are hoping for your understanding.

HR Department: Myla, we just want to pay you.
HR Department: Please connect me with your superior. If I can't get this resolved within the next 30 minutes I will have to close our company account. Which means, your company will loose $510.
HR Department: and future projects we were going to post. As you can see from our track record, we are a respectable service buyer and actually bring business to your company.

Myla: We undestand how the situation can be frustrating for you. That is exactly the reason why the ticket was forwarded to our Tier2 department for accurate resolution. You need to wait for there reply regarding this concern. Rest assure that we will follow on this.

HR Department: Yes, frustrating and extremely disappointing.
HR Department: If you can not help me. Please put me in touch with someone who can. A phone number would be great for example.

Myla: We do not have a voice support in our site. We need you to wait for the reply on the ticket that was already forward to our Tier2 department.

HR Department: Please provide me a form to close our account.

Myla: We understand that you want to close your account . However, you have to reinstate your account first before we can process your request.

HR Department: You are kidding.

Myla: I am afraid not. Do you have any other inquiry?

HR Department: Yes.
HR Department: 1) I want our company account re-activated now!
HR Department: 2) If this is not possible, I want to close it now!
HR Department: These are my inquiries. Please help me with those.

Myla: Please understand that we need you to wait for the reply from our Tier2 department to resolve this issue. We cannot just reactivate or close your account without following the protocol. We will appreciate if you try to understand this points.

HR Department: When will your Tier2 department be working again? They did not do anything yesterday …

Myla: We will follow up on you ticket for the resolution. Rest assure we will reply to your ticket as soon as possible.
Myla: Thank you for contacting Freelancer.com, please don't hesitate to contact us again if you have any other questions or concerns.

Myla has left the conversation
Click here to leave a message
I understand, that it might be out of Myla's control, but then it is a massive design failure in their support system. However, Myla should never ever just hang up on a customer without any confirmation that he is not satisfied with the result of the support. May be that's just my understanding of customer support and may be that's the way how customer support works in Australia or Sweden?
Did you have a bad experience with them too? Feel free to leave a comment below or tweet your experience to them @freelancer @geta@freelancer or about them #freelancer #getafreelancer. I did: @kozen23