live from China::Hong Kong S.A.R. (中国::香港特別行政區)
2011-11-30, on 09:53 | In
computer science
|
No Comments
|
Dieser Artikel in Deutsch
I like those websites that state very prominently that their site is secure, yet it is not.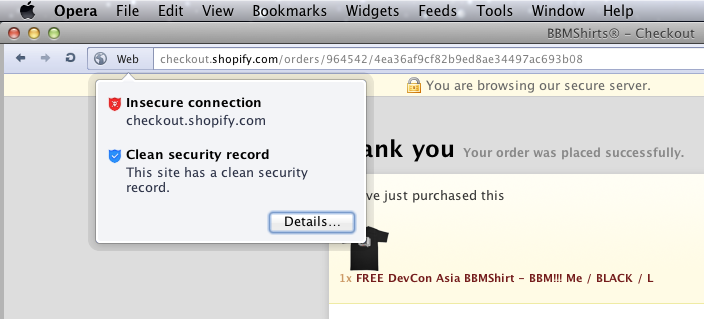 I know it says that I am browsing their secure "server" which might not necessarily mean that the connection to that server is secure. However, a standard HTTPS connection would have been enough for me. Lucky me, I didn't need to pay for that T-Shirt so no credit card information was sent anywhere. Anyone who wants to get one too, can sign up at DevCon Asia.
2011-11-09, on 08:33 | In
in hong kong
|
1 Comment
|
Dieser Artikel in Deutsch
This nicely done timelapse of Hong Kong and it's people is definitely worth kozen's world! Just click "play" below:
It covers everything: skyline by day and night, temple street night market, shopping, ICC (tallest building in HK), HK airport (by Norman Foster), bus rides, nature, bicycle rides, cultural centre, harbor, ferries, container ships, symphony of lights, and demonstrations.