live from China::Hong Kong S.A.R. (中国::香港特別行政區)
2014-08-13, on 10:10 | In
startups
|
4 Comments
|
Dieser Artikel in Deutsch
I'm still baffled by the bold move of Silicon Valley investors valuing the company behind the Yo app at $10,000,000 USD. According to themselves Yo is:
The simplest & most efficient communication tool in the world.
Yo is a single-tap zero-character communication tool.
Yo is everything and anything, it all depends on you, the recipient and the time of the Yo.
To an ordinary mind like mine the app does not sound very interesting and from a targeting point of view too general than you could actually define a specific target audience for it. Yet, I was intrigued by the simplicity and most importantly by the buzz around it. About a month or so ago, I decided to download Yo. Right after it launched publicly, actually. I have 6 contacts on there and in the beginning it was kind of fun to Yo people just for the heck of it. Nowadays I only Yo 'back' if someone Yos me first.
The Wall Street Journal apparently has made a very compelling case that Yo might become a communications and marketing platform to allow people and brands to communicate with each other in a more simplified yet sophisticated way. For example, adding a link (that opens a website) to a Yo notification. To be honest, the real key word here is platform. That is what gets investors all nervous to throw money at you. To them, there is no benefit in funding just another app. It's the platform behind the app that makes all the difference. Based on the anticipation of creating a simple and very direct marketing platform to bring brands closer to consumers makes check books open magically and throw money at an app that actually is absurd. In fact, Michael Santoli of Yahoo! Finance said: "When almost everyone immediately agrees that something is absurd – how can it possibly fail?"
So let's look at the plain numbers thus far. According to the Yahoo! Finance article, Yo has "been downloaded 1 million times and has around 50,000 active users." Based on a per active user valuation (which is how many tech and especially social media companies are valued by) that makes a staggering $200 per active user valuation. Compared to the $19bn WhatsApp takeover by Facebook which valued each of their 450 million active users at $42 per such user. The Yo valuation at 5 fold seems a little high. Anyway, another interesting aspect to look at, is the "stickiness" of an app. We at S4BB Limited look at a metric called "Retention" to determine the stickiness. In very simple terms, that's the ratio between total downloads and active users. So at 50k active users and 1m total downloads, Yo has a retention of 5%. Common industry standard for a good / sticky app is something around the 20-25% retention mark.
Just to compare this to our recently re-launched Battery Watch app on Android: 193k total users, 103k active users, 58% retention. Here is a screen shot taken this morning in our Flurry app analytics console:

Based on the number of active users our valuation for Battery Watch should be twice the Yo valuation so we'd end up at $20 million. Based on the retention rate our Battery Watch should be valued at 11.6 times the Yo valuation. That would be an outrageous $116 million. Plus, compared to Yo, Battery Watch is even profitable already. Yo, b***!
Sure, Yo has all the publicity, the advantage of being located in Silicon Valley and the platform (hope) story behind it. While we don't have the first and second point, our platform is currently being designed as well and will be launched in select markets very soon.
It remains to be seen how successful Yo can be in the long run. Right now it seems to be hip – at least on the investor and media side – but to build a long-term sustainable business model on top of that will be challenging. I wish the Yo team all the best in their endeavors.


More about Battery Watch: Battery Watch is a very simple, useful and yet fun battery monitoring tool. It combines essential battery information, useful TSA / UK DfT-compliant battery warnings with funny voices that make such a usually "boring / ordinary" utility app really fun to use. Try it for free through Google Play: http://bit.ly/BWatchA or BlackBerry World: http://bit.ly/GetBatteryWatch
About the author: Patrick is co-founder and CEO of S4BB Limited. An independent, boot-strapped mobile app company that has published over 48,000 apps for Android, BlackBerry and iOS. He is based in S4BB's global headquarter in Hong Kong. Patrick has also co-founded and invested into other startups like Sky Drone, Toshi, TreeCrunch Limited, Skylab Mobilesystems Limited and Slate Takes Limited. You can find his full bio at www.patrick-kosiol.de or connect with him on LinkedIn, Xing or AngelList.
2014-08-02, on 14:39 | In
startups
|
No Comments
|
Dieser Artikel in Deutsch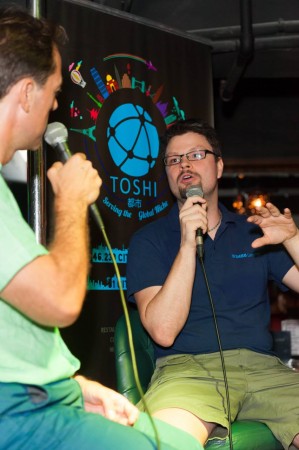 It has been 9.5 years since I left Germany for China to help start Skylab Mobilesystems Limited. One year after I co-founded S4BB Limited and subsequently other ventures like TreeCrunch Limited, Slate Takes Limited, Sky Drone and most recently Toshi. Since moving from Kunming (Yunnan, China) to Hong Kong I have been involved in the local startup community by as much as I can just make time for it.
Last week for example I was filling in at Web Wednesday as it seems there were not enough mobile app developers who had signed up for the 6th edition of their famous Battle of the Apps. That night was a great experience with a rather small, yet interesting crowd I was happy to talk to before and after my stage appearance.
Some younger folks I talked to are thinking about starting their own project – I believe they were recent university graduates. Having the courage to launch your company in Hong Kong – especially when you are a Hong Kong-local – is a huge thing in my eyes. While in the west (and with "west" I mainly mean North America) the startup culture is being is embraced, it's somewhat glorious and something to strive to. Here in Asia it is widely being avoided by young folks, though. There is a lot of tradition in play and a lot more of of parental control. As opposed to Europe, in Asia parents still have a lot to say when their fresh uni graduate kids look for their first job. Often the parents have paid hefty tuition for their kid's education and therefore, they demand them to get a "proper" job at a large firm like a bank or an international conglomerate. That doesn't event stop at folks who want to start a business themselves, it is going as far as getting the right job right after uni. In fact, I heard from some startups who did actually create a "care package" for a job applicant's parents to show them how it is like to work at a startup.
When we started off initially, we did not take any external funding nor did we have any 'family support'. In 2005 we just thought there might be a market for software running on mobile devices. Now those are commonly referred to as Apps. Even after almost a decade working in this field, having made many mistakes, paid for them monetarily and with time, still making mistakes (but keep learning from them); I still feel very much like running a startup. Or in matter of fact multiple startups.
Now running a startup isn't an easy task. Sometimes, I meet people who want to start up themselves, but they don't realize how hard it can be. Especially when you are coming from a "stable" job environment – I could actually elaborate for hours on the interpretation of 'stable' in this sense, but that's for another day. So coming from a "stable" job and starting your own company is a tough step. First and foremost, your usual monthly salary just disappears over night. You will not have any (significant) income for months and or even years. You are not gonna have free weekends, regular 9-to-5 working hours or even proper vacations. While most people actually know that, expect it and prepare for the monetary part of it in terms of financial projections and goals; I believe a lot of people significantly underestimate the psychological changes that come with it. It's surely not for everyone.
Working at a startup comes with many freedoms and sometimes even perks (like soft drinks, snacks and cool people that we are working with). Over these past years we have had 29 people who worked with us and left on their own will – at S4BB Limited alone. As a matter of fact, I was just thinking about that today and it motivated me to write this post. In the age group of 25 to 40 year olds the average time an employee is with the same company is probably something like 2 years in Hong Kong. I don't have any hard number on this, but this is what we have seen here and it is also what I know from other local companies. Compared to Germany's employees who stay 11 years on average with the same company, Hong Kong has quite some turnover. To be honest, the labor market is much more competitive here allowing folks to change jobs easily. Plus, head hunters (some of which are close friends) are very talented and motivated to place the right person at the right company. I also have to say that people don't quit jobs, they usually fire quit their managers. I didn't just think of that, it's commonly known and I do agree to that.
Being one of those "managers" myself who has been fired by quite a number of employees, I have to admit that every single time I get fired, I feel devastated for at least a couple of days – depending on how close we were or at least I thought we were. I believe one of the main differences between working in a large corporation and in a startup is about processes and projects. In large corporations you usually have a bigger project that lasts for a couple of months or a duty that is rather constant or something similar. Startups are small, very small, that means they don't have any manpower to waste at any given time during the day. This also results in many tasks and duties being shifted around on very short notice. To someone coming from a large corporation and now working at a startup that can be frustrating as one might not be able to see the bigger picture with constantly changing tasks or it can be motivating and even challenging. You just have to be the right person for it. Whether you run the show or you help run it.
The only big advantage startups have over established companies is speed:
Speed in developing and launching new products and services.
Speed in reacting to changes in the business environment.
Speed in decision processes that are necessary to be made quickly.
Speed in experimenting, failing and succeeding.
At my uni graduation ceremony the rector was holding a speech and I only remember one thing he said that: "In this new world not the big fish eat the small ones. The quick fish eat the slow ones." You could also say it the Bruce Lee way: "Be water, my friend."
We never stop learning and should always be prepared for change – every day – and then embrace it.