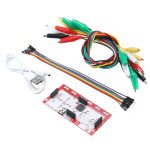 Inspired by our city's library who wants to launch a Maker Space here, I've ordered a Makey Makey set. Of course, the cheap version on Aliexpress rather than the original $50 one.
Makey Makey is a cool small set of cables and a circuit board. It's basically a USB keyboard & mouse that you can control with your finger tips by closing the electrical circuit.
It is great for building small electrical controllers with it. Hand-crafted little things simply to play around and understand how things work. Silly things like a piano controlled by touching bananas for example. Check out this video on Youtube that shows what can be done: Makey Makey Examples.
So I went ahead and created myself a small little game controller. All I used was the Makey Makey set, a piece of cardboard, a bit of aluminium foil and scotch tape. It took about half an hour to craft it. Check it out:
Here are some photos of the setup from the front, back and the Makey Makey board set itself:
Stay tuned to see what other silly things we can build with that.
Please follow and like us: