… was yesterday. Cass and I were out all day and I came back first; at around 11:30pm from Squash. I noticed the apartment was really dark and I quick saw that the awning on our terrace collapsed.
This is what happened: A couple of months ago Hong Kong's Buildings Department (BD) started cracking down on illegal structures all over Hong Kong. For about 6 years our landlord received mail from the buildings department on a regular basis about the awning on our terrace. Yes, they might not have had a permit to build it, but the awning was a proper construction; made out of solid wood poles and nice half-transparent roof. Well, the BD's standpoint was: illegal, tear down, now! So with their crack down initiative, they actually sent our landlord a court order to dismantle the awning which of course, they did. Right, and a fine of HK$ 50,000 (€4.480).
Having that paid, the landlord stalled in install a retractable awning – which does not require a permit, but is quite costly. Koz being Koz, was sending nasty emails to our landlord tell him (or better their secretary / property manager) to freakin' install something there. If Koz rents an apartment with terrace and awning, he is entitled to that. If there is no awning, I was about to deduct a flat 25% from the rent (for those $2,500 (€224) Cass and I could fly to Phuket and back over a weekend). Well, that threat had helped and they fairly quick (for Chinese measures) in putting something up. This is how it looked like yesterday morning:

From an engineering point of view, this installation was – how to say – terrifying. It rained a bit before and therefore water piled up in there. I couldn't even open the terrace door properly because it would hit the awning. Side note: our landlord owns around 100 properties in the Sheung Wan area in Hong Kong, two antiquities galleries on Hong Kong's Hollywood Rd. and one in New York's SoHo. So you could get the impression that they know at least a bit about business especially with their experience in managing and running 100 properties in HK. This is their website btw: Dragon Culture. It is a small family ran business and I assume all family members are multi-millionaires. Yet, every single time Chinese people (no matter they are behind the communist walls or here in Hong Kong) do something – even if they did it a hundred times before – the result looks like they did that for the very first time in their life. It is always the very cheapest way in doing things. Quality does not matter, sustainability does not matter, environmental protection does not matter, the only thing that matter is money: "Make it cheap or cheaper and quick, now."
So yeah, back to the topic: It was raining the whole day yesterday and when I came back home that awesome awning "construction" they built the day before, collapsed. Another example of wasted time, resources, nerves and money.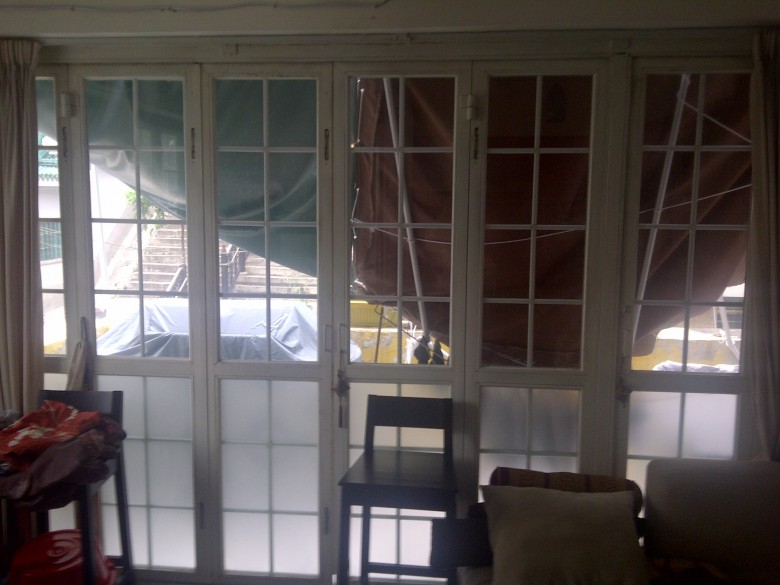 I couldn't bother with it at all, so I went to sleep. Who cares that it crashed onto my clothes hanging outside drying; who cares that caused by the collapse (and the 1 cm gaps in between each terrace door) water was leaking into the apartment right till under the coffee table. I sent a rather nasty email to our landlord again this morning which Cass commented: "Wah you are so sarcastic!" Yeah well, I doubt our landlord is ever gonna 'get' that.
To be continued …
P.S.: The result of the Buildings Department's crackdown on illegal structures, made ours a lot more insecure. Well done.
Please follow and like us: