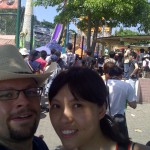 It felt like every single person out of Hong Kong's population of around 7,000,000 came to that little island. Yet, nobody was able to tell me how old Buddha would have been if he still lived. On top of this it was so hot on Cheung Chau Island (30+ºC, 95% humidity) that I had to jump into the first half-decent looking store and buy an original Chinese cowboy hat! Looks cool, huh?
The picture on the right was taken quite a while after the parade which we attended from a spectator's position. I took a couple of short clips of some of the attractions of the parade and so I also took some minutes just now and experimented with Apple's iMovie app. Check out the short(!) 7 minute cut of the parade:
After the parade we walked around a bit and found the "bun mountain" 包山 which is being climbed up by people during the Cheung Chau Bun Festival 包山節 or Cheung Chau Da Jiu Festival 長洲太平清醮 which "is a traditional Chinese festival on the island of Cheung Chau in Hong Kong. Being held annually, and with therefore the most public exposure, it is by far the most famous of such Da Jiu festivals, with Jiu (醮) being a Taoist sacrificial ceremony. Such events are held by mostly rural communities in Hong Kong, either annually or at a set interval of years ranging all the way up to once every 60 years (i.e. the same year in the Chinese astrological calendar)." Source: Wikipedia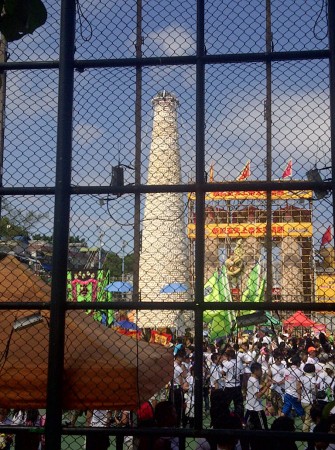 Because Cheung Chau is such a small Island, there are no cars allowed. In fact, there aren't even buses and I haven't seen motorbikes neither. The authorities, firefighters and police though, need their cars and therefore, they drive around in mini-versions which looks pretty funny I have to say. Unfortunately, I couldn't get the firefighter quad bike – that one looked really cool!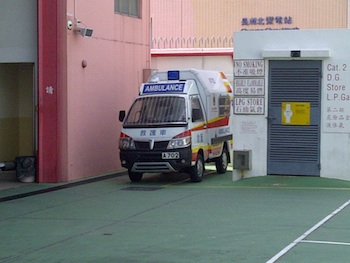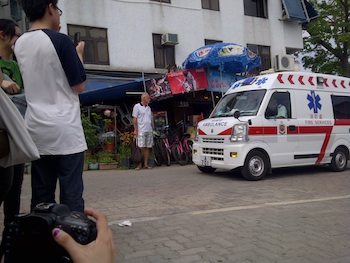 Later that day we wanted to go back home to Hong Kong Island and the only way to do so is to catch a ferry. Even though New World First Ferry had additional ferries operating, there were far way too many people on Cheung Chau and queue for the ferry was incredibly long! So we decided to stop at the next local Döner Kebab place and try their "Turkish Pizza" (which was good) and their "Kebab Roll" (which was crap). After one and a half hour of waiting we thought there might be less people now and tried to find the end of the line. Turned out we had to walk 1 km to find that one!!! Check out the map: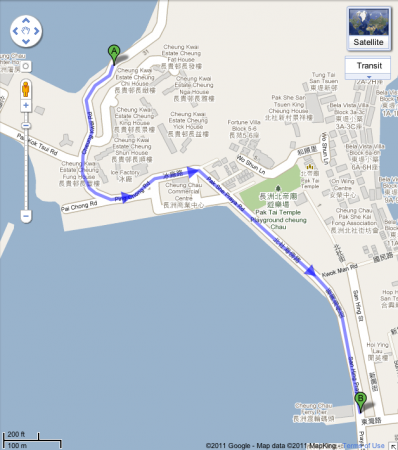 Source: Google Maps
Summary: It is good to see it – once. No need to go there next year 🙂
Please follow and like us: