This one is in German. Feel free to use Google Translate to a rough idea of what the heck I am talking about.
Wie schon seit mittlerweile vielen Jahren habe ich über Weihnachten mal wieder den Weg in die Heimat angetreten. Das ist doch immer schon was besonderes. Seit mittlerweile über 10 Jahren findet bereits unser alljährliches B.L. Flyers Weihnachtsturnier statt. Dabei sind immer alle aktuellen und ehemaligen Flyers eingeladen. Der Koz hat fast 10 Jahre gebraucht, um das Turnier und somit den Pokal zum ersten Mal letztes Jahr zu gewinnen. Dieses Jahr wurden die Teams ausgelost und wahrscheinlich war es Glück, aber ich bin in dem Sieger-Team gelandet. Von daher gab es dieses Jahr den Pott zum zweiten mal in Folge — nur aufgrund unserer Korbdifferenz (wahrscheinlich weil ich den letzten Dreier reingedrückt hatte ;)).
Achja, die Presse war auch vorbeigekommen. Aus irgendeinem Grund war meine Anreise von Hong Kong wohl sehr interessant und somit habe ich es mal wieder geschafft der netten Journalistin einen guten Titel zu verschaffen. Gern geschehen "cb".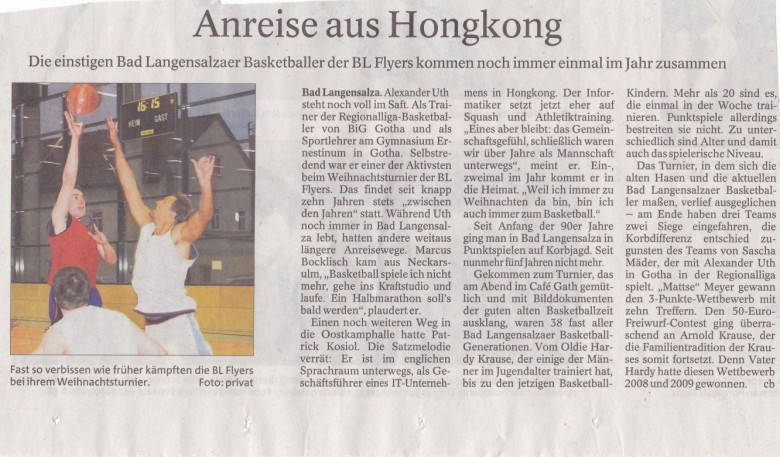 Please follow and like us: