It sounds easier than it is.
First off, you can drive in Germany with your foreign driver's license for up to 6 months starting from the first day of entry. If you want to drive after that period, you'll need to convert your foreign license to a German driver's license.
As you know, we recently moved from Hong Kong to Germany. My wife has a Hong Kong driver's license (even though she initial made her license in California) and we want to convert it to a German driver's license.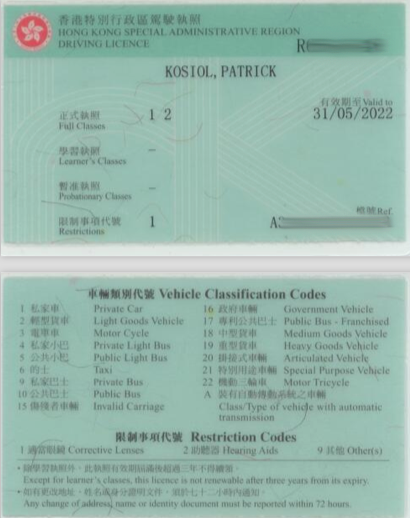 If you have a foreign driver's license you've got to distinguish between three different types:
You have an EU driver's license, or
Your driver's license was issued in a country listed in "Annex 11" of the driver's license ordinance, or
Your driver's license was issued in another country (i.e. not listed in Annex 11 nor an EU license)
1.  Your EU Driver's License
… is valid in the entire of European Union. Germany recognizes all EU driver's licenses as well as the ones issue in Iceland, Norway and Liechtenstein. There is no need for converting your existing license.
2. Your Foreign Driver's License (Annex 11)
… can be simply converted to a German driver's license by paying a small fee (~€48) and filing a conversion form. It is recognized by Germany and your licensed driving classes get converted appropriately. This requires that your issuing country / state is listed in "Annex 11" of the "German Driver's License Ordinance" namely: "Anhang 11" of the "Fahrerlaubnisverordnung (FeV)".
The following countries are listed in Annex 11:
Andorra
Australia
Bosnia Herzigovina
Canada
French Polynesia
Guernsey
Isle of Man
Israel
Japan
Jersey
Monaco
Namibia
New Caledonia
New Zealand
Republic of Korea (South Korea)
San Marino
Serbia
Singapore
South Africa
Switzerland
Taiwan
The United States of America are not recognized as a whole. Only the following federal states are listed in Annex 11:
Alabama
Arizona
Arkansas
Colorado
Connecticut
Delaware
District of Columbia
Florida
Idaho
Illinois
Indiana
Iowa
Kansas
Kentucky
Louisiana
Maryland
Massachusetts
Michigan
Minnesota
Mississippi
Missouri
Nebraska
New Mexico
North Carolina
Ohio
Oklahoma
Oregon
Pennsylvania
Puerto Rico
South Carolina
South Dakota
Tennessee
Texas
Utah
Virginia
Washington State
West Virginia
Wisconsin
Wyoming
It is important to note, that not all classes of your driver's license may be recognized. To get a clear picture of the classes you can transfer, please check the official annex 11 of FeV.
3. Your Foreign Driver's License (NOT Annex 11)
… your driver's license is not recognized and cannot simply converted to a German driver's license, if your issuing country/state is not listed in annex 11 (see above point 2).
This is, unfortunately, the group my wife's Hong Kong driver's license falls into. After consulting with our local driver's license government department and double-checking with them, we are now certain of the requirements to "convert" her license:
(1) Pass theoretical driving school test
(2) Pass practical driving test
Obviously, these two points are time consuming and expensive. Not to speak that if you fail one of these, you'll have to cover repeat costs.
Costs of Tests Required
As it is in small towns, I know someone who knows someone who has a driving school. So I went on and checked with him what these tests would cost roughly.
Theory
Passing the theoretical test is not that hard. You can buy a CD and practice the multiple choice questions over and over again until you know them all. There are now even apps available that help you get ready for that test.
€35 CD
€35 Theory Test Fee (driving school – may vary)
€22.49 Dekra-Fee
Practical
It is recommended to have at least a few driving lessons to have some kind of chance to pass the practical test. Even experienced drivers might find it hard to pass this test. A small mistake and you've failed the test. So it was recommended to us to do perhaps 10 driving lessons to get a chance to pass the practical test.
€380 Driving Lessons (10x €38) (driving school – may vary)
€55 Driving Test (driving school – may vary)
€91.75 Dekra-Driving-Test-Fee
In total we would end up at around:
€620-800 total
This obviously depends on the actual number of driving lessons the applicant needs (if at all) and/or a test would have to be repeated, etc.
Notes on Tests in non-German: Not all testing centers seem to be offering driving school tests in other languages than German. At the DEKRA for example, I haven't found any information for tests in English. TÜV Nord for example offers their driver's license tests now in English, French, Greek, Italian, Polish, Portuguese, Romanian, Russian, Croatian, Spanish, Turkish and Arab.
What's Needed For The Application of Conversion
In full, an application at the Driver's License Department for converting a Hong Kong driver's license or any other license that's issued in a country not listed in annex 11:
Eye Test Certificate (get at eye doctor or optometrist)
First Aid Course Certificate (get at Red Cross)
1x Passport Photo
Driving School Application (where you do theoretical/practical tests)
Translation of Current Driver's License
The conversion fee is €48 and can be filed before you actually do your test. From the day you pass your tests, it takes up to 14 days to issue your driver's license.
Where to Apply for Conversion
Usually the driver's license government department is called "Fahrerlaubnisbehörde", which in most cases is situated at the city or county government. Larger cities have their own department, smaller ones like ours have theirs at the county's government departments. A full list of addresses of all departments in Germany can be found here: Address Index of Driver's License & Vehicle Government Departments (in German only)
The other way around: German to Hong Kong Driving Licence
Just FYI. A few years ago, I converted my German EU Driver's License to a Hong Kong Driving Licence by simply filling out a form and paying a fee. In Hong Kong I did not have to do any test or provide any certificate whatsoever — except for a translated copy of my German driver's license. It was quick, easy and straight forward.
Tid Bits:
"Driver's license" in German is called "Fahrerlaubnis", which is pretty much the literal translation of "driver's license". Colloquially it is called "Führerschein", which is the actual "driver's license card" you carry around.
driver's license (or driving licence) = Fahrerlaubnis
driver's license card = Führerschein
driver's license department = Fahrerlaubnisbehörde or Führerscheinstelle
convert my driver's license = meine Fahrerlaubnis umschreiben
Notes:
I have written this down here in English, because many German government agencies don't publish their information in English or in a comprehensive way. Especially for foreigners we find it being very difficult to navigate typical German bureaucracy without extensive knowledge of the German language.
Sources:
Update 2018-09-20: Thanks to our very attentive reader fok, we were pointed into the right direction and corrected the actual meaning of "Fahrerlaubnis" and "Führerschein" as well as the differences between them.
Please follow and like us: