We recently launched this new app called ARS, which stands for Auto-Re-Schedule. It is a very niche productivity app for people who have tasks that need to be done at fixed time spans — starting from the time the task was completed.
Traditional productivity apps like Apple's "Reminder" app, Google Calendar or the like, usually pre-schedule tasks for a certain date/time. For example, every Monday morning 8:00 am "Bring child to kindergarten". Just an example, not that I would forget that 🙂 So technically, all future tasks of that one thing to do, are scheduled in advance for every Monday morning. There was simply no need for us to create another app that can do exactly the same.
Download & Full Announcement: ARS – Auto-Re-Schedule Launched – Reschedule Tasks with Fixed Time Spans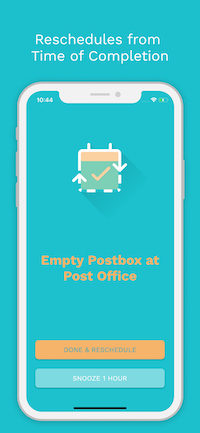 ARS is different. At ARS you can schedule a task for Monday 9:30am as "Pick up mail from postbox" and you can set a fixed time span, for example 7 days. So when you complete this task, it will automatically re-schedule itself 7 days after you have completed that task.
Early Completion. So if you pick up your mail early, say on Thursday morning 9:30am, you can mark your task as completed. It will automatically be re-scheduled for the next Thursday 9:30am, i.e. 7 days later.
Late Completion. Should you miss your time and complete the task two days late: Wednesday 9:30am; then you mark the task as "done" and it will automatically re-schedule itself for the following Wednesday at 9:30am, i.e. 7 days later.
Again, ARS works differently in that sense. Of course, you could keep using the existing Calendar/Reminder app and will work just as fine — as long as you manually edit the next alert time if you've completed your task early or late.
Use Cases. ARS only makes sense for very specific tasks, like emptying the postbox here in Germany. I have a maximum of 7 days I can keep my mail there before the post office ladies will send it back to the sender. So I'd like to make sure I pick up my mail on time. Same counts for pre-paid SIM cards in certain countries. In Hong Kong at Smartone for example, pre-paid SIM cards can be topped up and from the time of last top-up the card is valid for 180 days. If you top up early, that 180 day counter resets. So you got to make sure your SIM card is topped up on time and if you top up early, that fixed time span is being kept and the reminder to top up is being set properly.
ARS can be downloaded for free. Your first 3 reminders are free. If you'd like to use more, you can purchase the upgrade through the app for $0.99.
Please follow and like us: